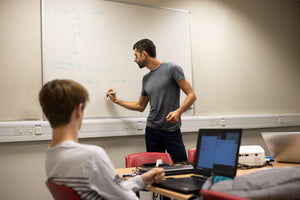 *All events are now to be held online*
Our half-day course (three hours) suits those who require an introduction into Oxford or Cambridge interviews and two practice sessions. 
Interview Preparation Session 
For students opting for our extended programmes of support. Student will send us background on their application, how they are feeling about various elements and areas they would like advice on. The interviewer will introduce the student to the format, what interviewers are looking for and give the student the chance to practice answering questions. This will focus on what outcomes admissions tutors seek from interviews. This will help to maximise the value of your practice interviews. 

Personal Statement/Written Submission Interviews 
Designed to test the student's ability to discuss material that they are already familiar with, previously studied in school and written about in their personal statement. Our interviewers will encourage the student to expand upon topics mentioned within the submission, outline their position on certain issues, while allowing scope to explore topics in a little more depth; vital skills in a real Oxford of Cambridge tutorial. If the application contained a written submission we can also base the interview on that. 

Subject Interviews 
Students will be presented with a subject-specific problem, article or text that they have not seen before. In some cases the student will be asked to complete a short test and the student's interview will be based on their answers. This can often be the most daunting part of an Oxbridge interview and requires the student to think clearly and carefully under pressure, and to confidently express recently formed ideas in response to the material. Our interviewers will push the student to expand upon their ideas, justify their arguments on a topic, and assess how they might modify their position if presented with conflicting ideas or examples; vital skills in a real Oxbridge tutorial. 

Students are welcome to adapt the three hours to suit their needs.